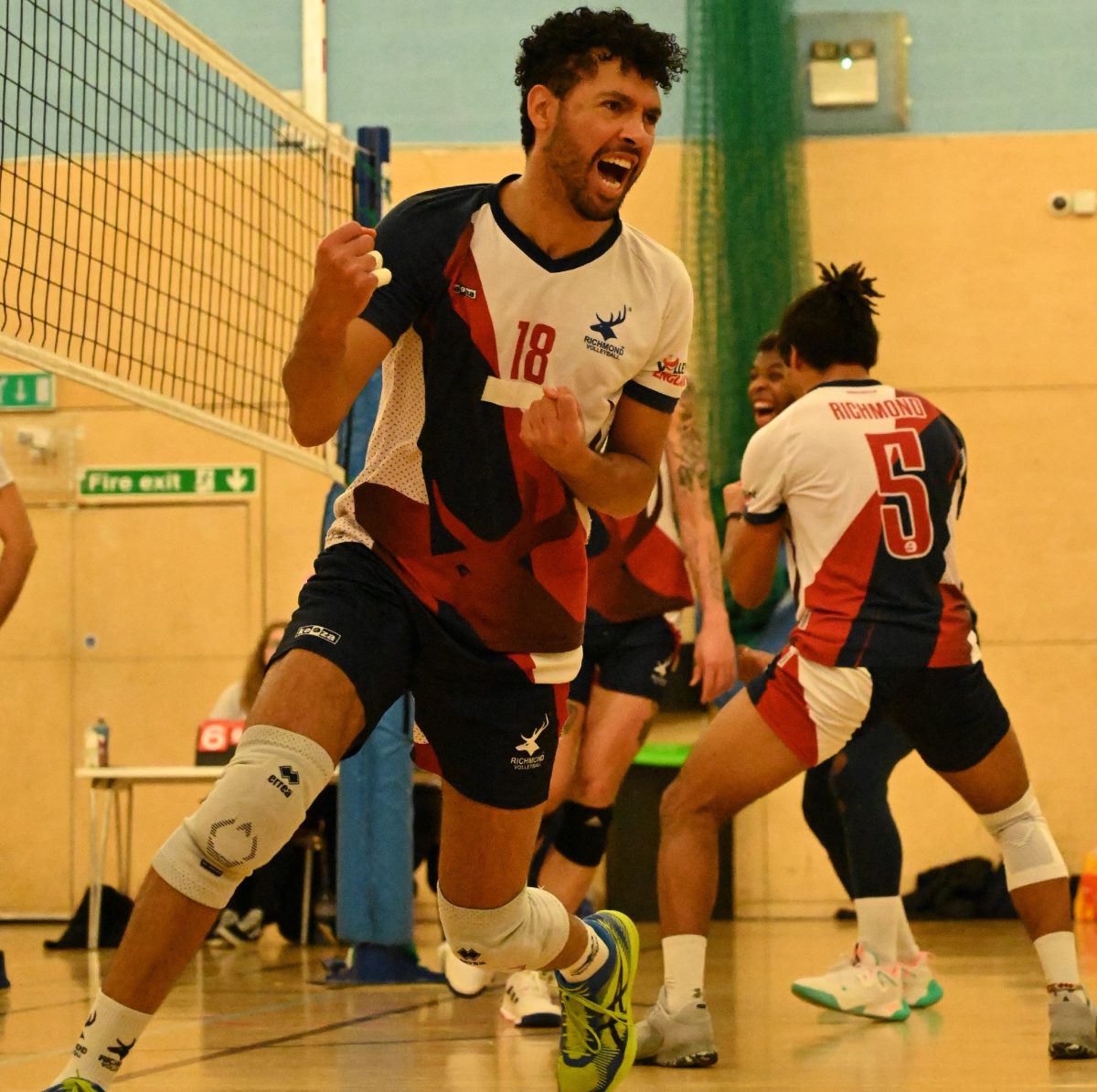 Interview with Vitor De Oliveira, middle blocker and the captain of Richmond Docklands, November 2023.

How did you start to play volleyball? Tell us about the history.
My first contact with volleyball was through my sister. She was playing for a neighbourhood club, and I went to watch one of her matches. I didn't know the rules at the time, but despite my initial ignorance, I immediately knew I wanted to play volleyball. Initially, my mom wanted me to play soccer like most boys, but after relentless requests, she eventually changed her mind.

Aren't you from Brazil, where football is considered the top sport?
Yeah, without any doubt, and it is also the sport that receives the majority of investments. However, research done in Brazil indicates that volleyball is just as popular as football among the general population.

What's the difference between volleyball in Brazil and in England?
Well, pretty much everything (smiling). The organizational structure of volleyball across the country is a major differentiator. Almost every state boasts at least one professional team, with some having multiple teams. These clubs heavily invest in their junior teams, which typically start as early as 14 and continue until the age of 20. The young athletes often get the opportunity to train and play alongside the main team, accelerating their maturity in the sport through exposure to more experienced players.
Another significant distinction between playing sports in England, not limited to volleyball, and playing sports in Brazil is the potential for it to be a life-changing opportunity. In a country marked by significant social and economic inequality, becoming a professional athlete represents a golden ticket. However, given the popularity of volleyball, securing a spot on a junior team is a challenge in itself.
My personal journey into volleyball began relatively late, at the age of 17. It didn't take me long to realize that the odds of becoming a professional player and representing one of the top teams in the league were slim. Consequently, I decided to leverage volleyball to open other doors. That's when I discovered some universities and colleges in the US and Canada offering scholarships to athletes willing to represent them in tournaments. After two and a half years of self-study and communication with multiple colleges, I secured a full scholarship to study in Canada. This marked the beginning of a new chapter in my life, made possible by sports, particularly volleyball.

Tell us more about your volleyball experience in Brazil.
I spent the majority of my junior years playing for a hometown team called Olympico. Over four years, I had the chance to refine my technical skills and establish a strong foundation. In my second year, I started training with the main team. Despite the demanding routine of three daily training sessions, sometimes with additional personal trainer sessions, it became a period of significant growth. I learned a great deal from the older players, getting a glimpse into the life of a professional volleyball player and being able to fully dedicate myself to the sport.
Financial challenges were a constant struggle. While the club provided accommodation, any other expenses fell on me. I wasn't earning any wages at the time, and my parents couldn't offer much financial support. The backing of my teammates played a crucial role in keeping my dream alive. They would assist me by paying for my lunch, which I would often split into two halves, one for lunch and the rest for dinner. It wasn't an easy period, but I would go through it all again because I realize that in life, dedication and sacrifice are necessary for achieving anything worthwhile.
In my last year with the club, I was honoured as the Volleyball Player of the Year. It was a meaningful way to conclude my junior years, and I remain deeply grateful to every person who supported me then. Without their help, I wouldn't be where I am today.

What are your thoughts on Richmond Docklands?
It feels like home. This marks my sixth season playing in the UK. After spending my initial four seasons with Polonia and sharing many memorable moments with the club, I felt it was time for a change. While I'm passionate about playing at the highest level possible, volleyball gradually became less of a priority in my life. My focus shifted toward work and family. Although IBB had ambitious plans to elevate volleyball in the UK, the level of commitment required for that journey and the frequency of weekly training sessions started conflicting with my personal goals.
Richmond entered the picture when Marcel, whom I had the pleasure of playing with before he became Richmond's coach, extended an invitation. Richmond appeared to be exactly what I was searching for – a team with a good level that would allow me to sustain my love for volleyball while accommodating a more flexible schedule. I felt warmly welcomed from my first training session, and I appreciated the friendly atmosphere within the team. In that season, we won the Cup, an achievement I had previously experienced with Polonia, but this time it was particularly special as it marked Richmond's first time securing the top spot on the podium.

What makes this atmosphere different?
It's tough to put into words, but there's just this genuine desire to be here. Perhaps it's because it truly feels like a team, where everyone is united by their passion for volleyball. I've had unique experiences with IBB, such as meeting and playing with my volleyball idol, Giba. However, I've never felt at home the way I do in Richmond. I eagerly anticipate spending time with the team.

What about coaching and the level of play in Richmond?
Among all the players in the club, I believe I'm the only one fortunate enough to have shared the court with Marcel Sivak. Even though he has traded in his knee pads for a coaching role, his passion and dedication remain just as strong as when he was a player. It's gratifying to witness his growth as a coach and to see him rightfully recognized with a position on the coaching team of Team England. Richmond is fortunate to have him.

This season, you're recognised as one of the best servers on the team. What's your secret?
I'm not sure what you're talking about (smiling). I've always disliked serving, and I'm not a fan of my own service. I simply aim to get the ball on the other side of the court and hope for a weak reception from the opposing player.

What would you want to say to the young generation, to the players who just starting to play volleyball?
Remember, hard work and discipline will always yield results. Stay humble and attentive to your coach and more experienced players – there's a lot to learn from them. Maximize your training sessions; solid technique and fundamental skills are essential for every volleyball player. Set personal goals for where you want to be in your volleyball career in a specific number of years. Most importantly, don't give up. Persistence is key.