Richmond Volleyball's first Beach League is a hit with juniors and adults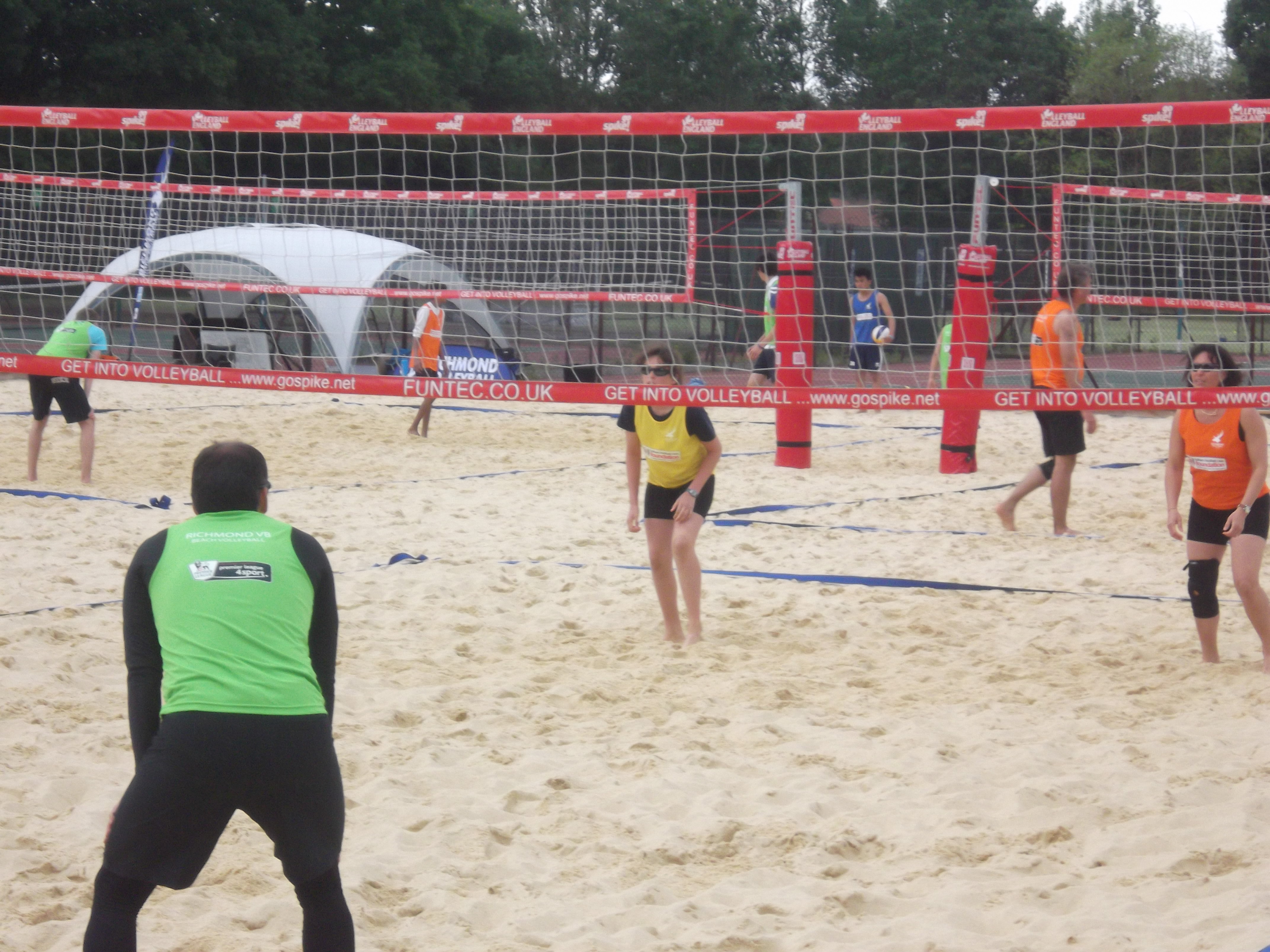 In the last three weeks more than 55 people have registered and contributed to the success of the 1st of three London's only 3v3 and 2v2 Beach Volleyball Series Finals Tournaments delivered by Richmond Volleyball at Barn Elms Sports Centre (SW London – Wandsworth), supported by Premier League 4 Sport and Fulham FC Foundation.
Richmond Volleyball Beach Series consists of 12 tournaments held over June to August on the weekends and the race is now on to become RVB Series Champion and for the top 32 players to qualify for the London Beach Volleyball Masters Cup (Sun 1st Sept) and win prizes and medals. The London Beach Volleyball Masters Junior Cup will be held on Sat 31st August. Saturday is 3-a-side competition, mixed and open for all and Sunday is 2-a-side only also mixed and open for all.
We also run junior beach training (u9 to u18) held on Friday's (6-8pm) at Barn Elms. With over 30 young players registered, 12 players will be competing at the British Junior Beach Championships in various age groups (u12 to u18 boys and girls) to be held at Sandbanks, Poole in Dorset on 6th/7th July.
In the 1st 3v3 Series Javier Bello (u13) & David Rijvers won the final against Joaquin Bello (u13) and Luis Bello whilst Javior Bello secured top ranking place with 300 pts. The top ranked female players are Katie Miller (u16) and Jazime Vaczi (u13) both on 250 pts.
In the 1st 2v2 Series Luis Bello and David Rijvers topped the round robin competition with Eduard Jankelovic & Victor Romandv finishing second. David Rijvers secured top raking place with 350 pts, followed closedly by Luis Bello (300 pts), Eduard Jankelovic ( 270 pts) and William Fox (260 pts). Richmond Volleyball would like to thank everyone for making the 1st Series a great success and in particular club volunteer (Barbara Echevarria).
All levels and existing players are very welcome to enter the 2nd Series of qualifying tournaments which starts next Saturday 22nd June (3v3) and Sunday 23rd June (2v2) offering fun and enjoyable games (certainly helps keep you fit) with a truly friendly and festive atmosphere with music. A new series champion will be crowned on Sat 20th July and Sun 21st July.
Results from 3v3 Series 1 Finals
1st: J.Bello / D.Rijvers (200 pts)
2nd: J.Bello / L.Bello (160 pts)
3rd: V.Kosanvic / I.Batrane (140 pts)
4th: J.Goalen / N.Goalen (120 pts)
5th: K. Miller / J.Vaczi (100 pts)
6th: F. Sarmiento / C. Pereisa (80 pts)
7th: M. Bullen / M. Goalen (60 pts)
Results from 2v2 Series 1 Finals
1st: L.Bello / D.Rijvers (200 pts)
2nd: E. Jankelovic / V. Romandv (160 pts)
3rd: W. Fox / G. Crucini (140 pts)
4th: J.Bello / J.Bello (120 pts)
5th: A.Montenegro / M. Rees (100 pts)
6th: A.Amer / A. Borbely (80 pts)
7th: N. Epiphaniou / R. Kerchen (60 pts)
8th: K. Miller / J.Vaczi (40 pts)
Click the link to view:
3v3 Saturday's Results and Standing 
2v2 Sunday's Results and Standing