RVB NVL 2 Women: The Comeback Queens crash Ashcombe in 5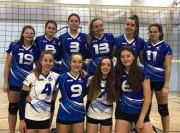 What a thriller of a game our supporters witnessed last Sunday when Richmond NVL 2 Women traveled to Aschombe to face the contender for the playoff position!
Richmond team trained well during the week and worked diligently on a game plan so finding themselves 7-1 down was not quite expected.
It needed a timeout and some very stern words by Coach Giorgio Scatigna-Gianfagna. That seemed to have a desired effect and Katie Keefe ,Gledia Jonuzi and Issie Russel started playing very good and powerful shots.  However, Aschombe placed their bets on some very good serves and RVB kept missing them so the set eventually went to Ashcombe at 25-17.
Second set regrettably was another slow start for RVB. Despite of  superior attacking power and blocking, some very unusual serving mistakes saw RVB losing again 25-18.
At the interval between the second and third sets Coach GSG regrouped the team and just reminded them how good they were and pointed why they were better equipped than the opposition to win this game. They just needed to concentrate and stop making silly mistakes. The response from the team was instant – Katie's powerful hitting, Aurelia's strong block, Gledia's cross court and Issie's well placed middle hits allowed RVB to turn the table and win the third set 25-18.
The fourth set was a real battle and eventually the two teams leveled at  23-23.
Coach "GSG" called a time out and gave 2 simple instructions to the front court players, and Aurelia struck a superb block and Issie served cleverly to take the set 26-24.
The final set was just about desire to win, determination and 10 minutes of concentration. The girls were amazing. Started well, turned at 8-4 and never looked back.  Among the highlights of the final set were some superb blocks by Aurelia,  great tipping by Gledia and power hitting by the MVP Katie. Convincingly RVB closed the set at 15-7 and the match 3-2.
Great celebrations followed with all our supporters.
Coach"GSG" commented: This game showed that we deserve to be where we are. Yes, some very old bad habits still resurface from time to time but during the 3rd and mainly 4th and 5th sets I noticed how much these girls have grown up in the last months. Indeed they are testing my patience to the maximum and I need a new note book and pen but I am so proud of all of them. "
This result put RVB in a great position for at least a playoff spot. Still many games to play but next game against Southampton at home is another mental test for the team to go out and get a result to carry on the quest.
Come to support us on the 23 March, Saturday, 16:30 at Kingston College Arena.