RVB NVL 1 Women: TEAM WORK REWARDED WITH 3 POINTS WIN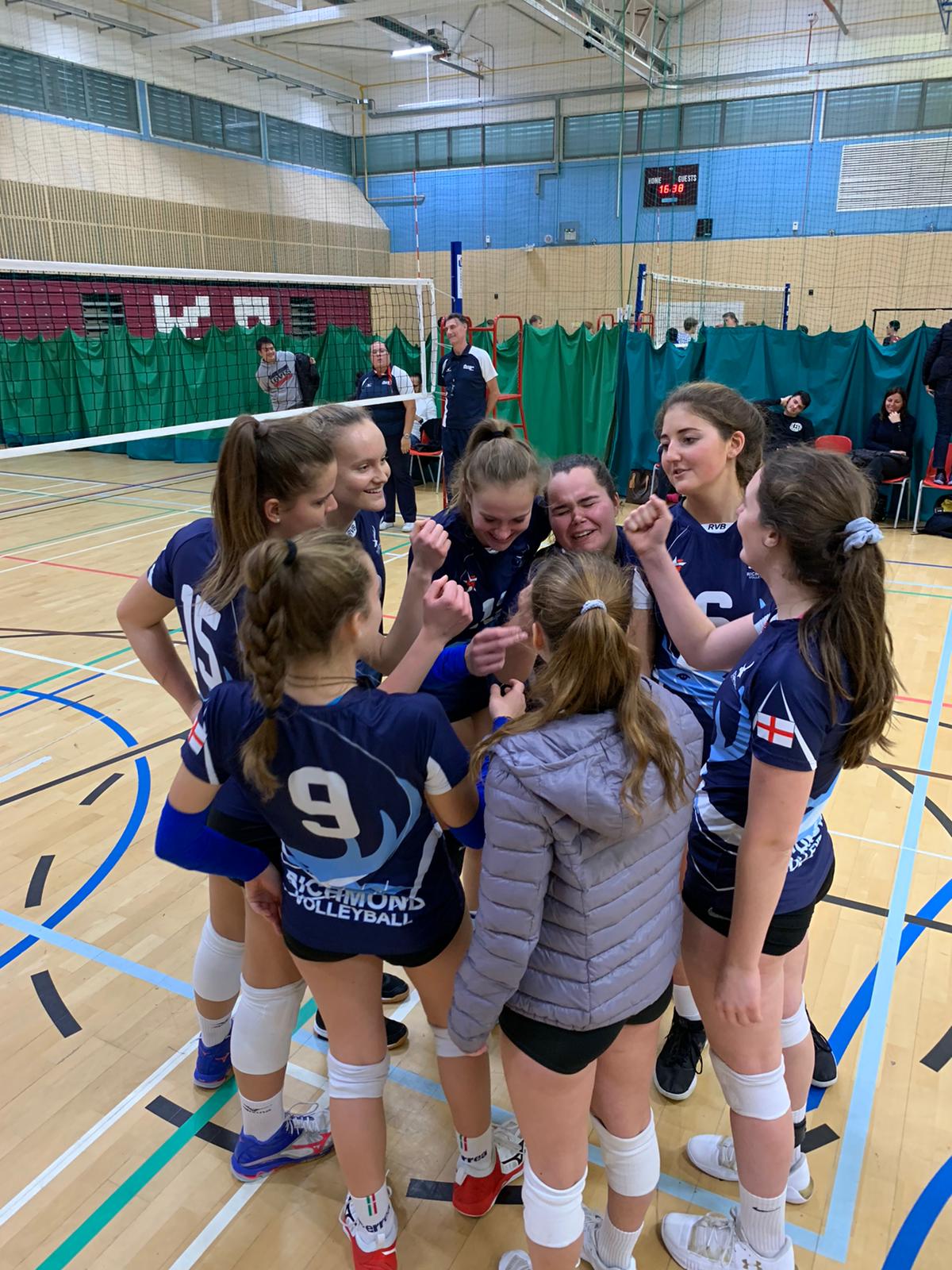 After almost 2 months since their last league match, the RVB Women Div 1 team  was finally back in action on the home grounds versus Herts VC, the team which currently sits in the bottom part of the league table. Home crowd was not disappointed watching Richmond ladies claiming their 3 winning points in style! 
This league match followed their dazzling performance in the second round  of the u18 National Cup and an enhanced training programme after the Christmas break. Although it was yet another challenge for the coach Giorgio Scatigna-Gianfagna "GSG" faced with a shortage of players due to injuries and school commitments.
RVB had plenty of time to warm up and they started well with good controlled plays especially in the serving and back court attacks with Lisa and Aurelia respectively. Little lack of concentration and determination on the home side allowed visitors to gain points but it was the 2 points difference at the end that closed the set for Richmond 26-24.
Second and third set were kept by RVB tight at 25-10 and 25-11.
Overall the team worked for each other. Some great combinations with Katie,Gaia and some very well placed serving by Brandi and Laura saw the second and third set finished very quickly and clearly showed the real power of this team.  It was also first competitive game for Laura Konopecka who was back on court after 2 months of injury rehabilitation.
Coach GSG commented " It was great to come back and play again after a long break. The team worked so hard in the gym and last 6 training sessions. It is always challenging to play a team one expectes to be weaker  as you must keep your concentration for all the duration of the game..There is so much going on around us in terms of other teams and their fixtures that we just need to think about ourselves and take one game at the time. The team is well focused on the task ahead and we need to  keep calm and carry on. We are all working towards one goal,one dream!"
The win takes RVB to the second position in the League even though some teams have played more games.
Also, the door to the promotion and play off position has opened wider after the previous leader Oxford last week lost its second game of the season.
MVP for RVB was Katie Keefe.
The next game is away and happens to be against Herts VC again. In the short month of February Richmond Ladies are scheduled to play 4 matches and will aim to consolidate their position on the top of the league.