NVL1 Richmond Women Slipped in Leeds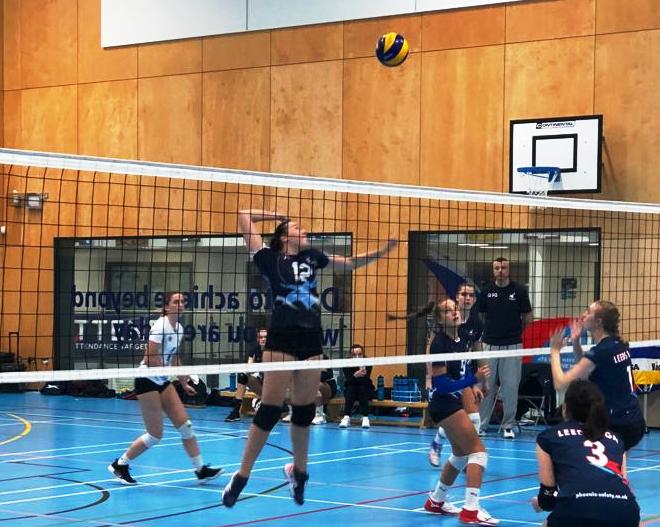 The NVL1 Richmond Women's team suffered its first defeat vs Leeds RGA VC on Saturday scoring overall more points than the opposition and falling just three points behind in the final set of the five set battle.
After a well deserved rest last week RVB Women's first team was  back to full training schedule preparing themselves for a long journey to Leeds.
With Aurelia missing and Issy still recovering Coach Giorgio Scatigna-Gianfagna "GSG" had only few options.
The 4 hours plus journey through a wet Saturday morning and a rather unfriendly welcome by the Leeds team saw RVB starting slowly and still managing to win the first set at 25-19 with some good serving by Lisa and  good middle combinations by Grace.
In the second and third sets  RVB made over 20 unforced errors in  services and hitting.  It was a hit and miss game all the way through these sets with occasional great plays by Grace and Katie, and Brandi's difficult services. Unfortunately this would not compensate for too many errors.
In the fourth set  RVB took a commanding lead of 9 to 1 and closed the set with some very impressive blocks by Laura and Grace and  power hitting by Katie.
The fifth set regrettably did not start well with more unforced errors by visitors. The team struggled  to close the points and finished 3 points behind the hosts.
Coach GSG commented "  4hrs journey is always very challenging especially with a short or lack of bench due to some few players injured or away.
We need to reflect on today game as a group and move forward and learn that we do still have a lot to work on. This set back probably comes at the right time to go back to training more determined than ever and into the next 5 games before Christmas break
Next week game vs Malory must be seen as a great opportunity for us to really embrace the challenge and believe in our ability.
Our priority is working towards retaining Div 1 status and then working towards the play off for SL but we will take the Cup seriously and have a good go at it!"
MVP from Richmond was Laura Konopecka.