U15 National Finals – RVB Boys brings back bronze medal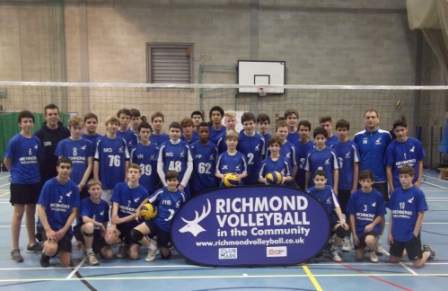 Richmond Volleyball didn't win the medal they hoped for at the u15 National Junior Boys Championship Finals held at National Volleyball Centre (Kettering) but they were proud to get one in the end. From six teams (two groups of three teams), RVB U15 Boys finished second in their group and progressed to the semi-finals by losing against Boswell Academy (2-0) and then winning against Middleborough & Acklam VC (2-0).
The winners from Group A Newcastle Staffs stood in Richmond's way to make it to the gold medal game. The semi-finals were a back and forth battle and went to three sets. 1st set for RVB 25-21, then RVB lost the 2nd set 23-25 and then in the 3rd set RVB was up by 13-11 but narrowly lost the match by 15-13.In the bronze medal play-off match RVB had to face arch rivals Ernest Bevin, but Bevin at the last minute forfeit the game and Richmond Volleyball walked away with their first national junior medal in their club history.
On behalf of RVB we would like to thank all the players, coaches, parents, venue training hosts (Grey Court School, Hampton Boys School and Tiffin Boys School) for all your support and for a year of excellent and exciting volleyball. It was amazing to see how the players have grown throughout the year, not only as a team but individuals. The players have made us all proud and hopefully next year we will bring gold home for Richmond!
Final Standings 
(1st) Boswell Academy School (Essex)
(2nd) Newcastle Staffs VC (Staffordshire)
(3rd) Richmond Volleyball (London)
(4th) Ernest Bevin (London)
(5th) Middlesbrough & Acklam VC (Middlesbrough)
(6th) Harrogate VC (Yorkshire)