South London Volleyball League half season review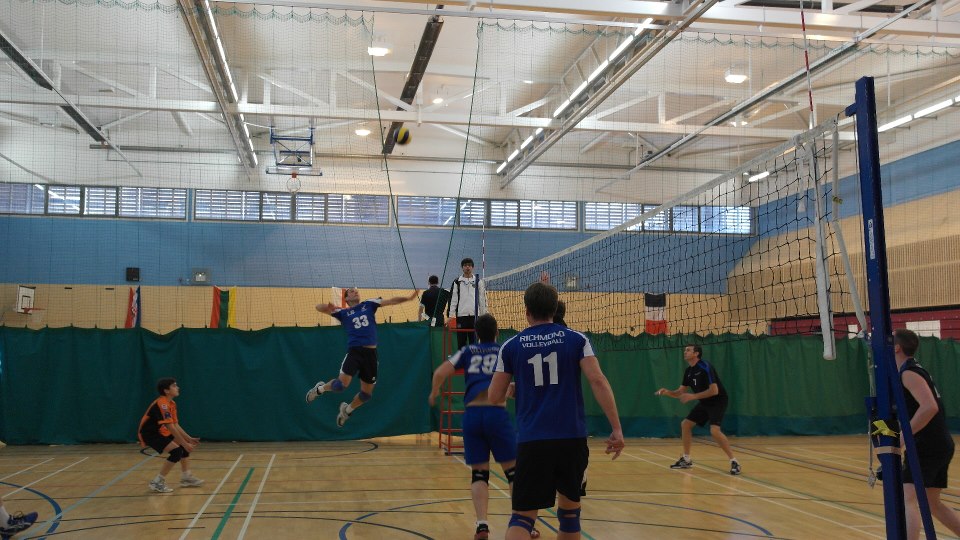 The second half of South London Volleyball League season played indoors at Richmond College, Twickenham (central venue) gets under again with 35 teams on Monday 6th January with two mixed divisions, on Tuesday 7th January a premier men's league and a premier women's league and on Saturday 11th January a junior boys league. How are the league contenders shaping up so far?
In the Men's Premier Division (9 teams), RVB Young Guns (won 12 and lost 1) are heading the table followed closely by RVB Top Cats (won 10 and lost 4) and RVB Busters (won 9 and lost 3). The top three teams will qualify for the Men's Division 1 Finals (March) . Teams finishing 4th to 6th will progress and qualify to the for Men's Division 2 Finals and teams finishing 7th to 9th qualify for Men's Division 3 Finals.
In the Women's Premier Division (3 teams) Pin-Lon Spikers (won 4 & lost 0) have yet to loss a match and are heading the table. The battle is for 2nd place between Richmond Firebirds and Teddington VC (won 1 and lost 3). Women's Finals to be in March.
In the Mixed Division 1 (7 teams) there are three teams battling out for the league title with 1st Pin Lon Spikers (won 7 and lost 3), 2nd Richmond Antlers (won 5 and lost 5) and 3rd Kingston Red Lions (won 6 and lost 0). The Red-Lions have played 4 games fewer than the teams immediately above them so they will hope to climb to the top of the table with their games in hand.
In the Mixed Division 2 (10 teams) Pin-Lon Spikers 2, (won 8 & lost 0) are in pole position, followed by Richmond College (won 6 and lost 4), Kingston Knights (won 5 and lost 3). The Divisional finals will be held in March. Team 4th to 10th
In the Junior Boys League (6 teams) there are two teams battling out for the league title with 1st RVB u16's (47 pts) and 2nd RVB u18's (35 pts). In 3rd Richmond University (29 pts), u14 Orleans Park School (22pts) Kingston University (16 pts) and St Mary's University (12 pts).
To view all league tables go to:
https://www.richmondvolleyball.co.uk/south-london-volleyball-league
The South London League offers the best value volleyball league in London & Surrey and a great social atmosphere. If you are interested joining this league for 2014/15 season please contact us.