RVB Summer Slamdown: Mixed 4s Beach & Grass Volleyball Festival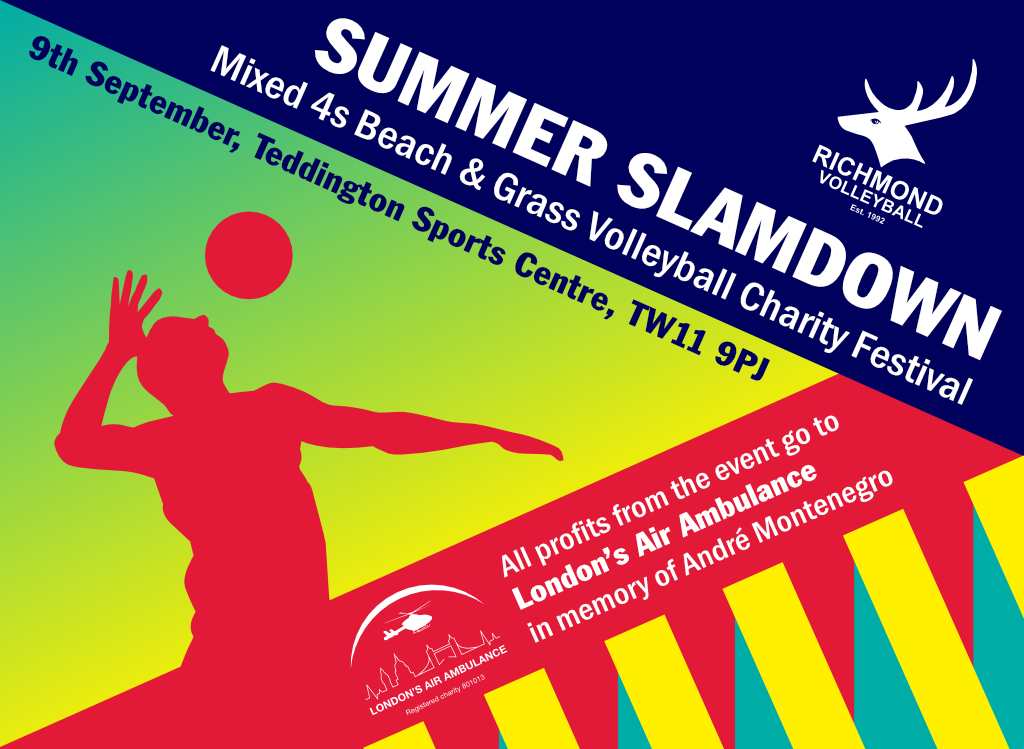 On September 9th, 2017 Richmond Volleyball are partnering up with our charity partner, London's Air Ambulance, to deliver the third and final mixed 4s outdoor tournament of the summer.
The tournament is open to all mixed levels with a minimum of one female player on court at all times.
Up to 20 teams will play a minimum of 5 matches on 3 sand and 3 grass courts at Teddington Sports Centre, Broom Road, Teddington, TW11 9PJ.
There will be soft drinks and snacks available to buy at the event and a sports massage therapist will be offering massages to competitors.
The tournament will go from 9am to 5pm and is followed by a barbecue party at the nearby Royal Canoe Club til late. A licensed bar is available at the party venue.
Friends and family are welcome to come and support the teams at the tournament or join the party in the evening. There is no entrance fee for spectators, but we appreciate donations to our charity partner.
All profits from the event go to London's Air Ambulance, the charity delivering an advanced trauma team to critically injured people in London, serving the 10 million people who live, work and travel within the M25.
The event is run in memory of André Montenegro, a friend, coach and player of Richmond Volleyball and a great ambassador for the sport of volleyball.
Online team registrations are now open – £50 per team. Click here for more information and to register your team.
If you haven't got a team, please email beach@richmondvolleyball.co.uk and we will try to create some teams for you.
Call for volunteers:
The tournament is run by volunteers from Richmond Volleyball and we welcome anyone who wants to help make this event even better.
Specifically we are looking for:
Food donations (Cakes, salads, snacks etc)
Help with set up and dismantle
Help at the tournament desk (score and time keeping)
Help with food and drink sales during the tournament and at the Barbecue in the evening
If you would like to help, please email beach@richmondvolleyball.co.uk.
Matched giving:
London's Air Ambulance is a UK registered charity (801013) and is eligible for "Matched giving" by some corporations/companies.