RVB NVL 2 Women: Hit Rock-Solid Oxford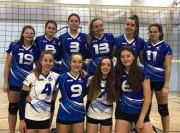 Richmond finally met the leader of Division 2 Oxford last Sunday. Oxford played one game more and was one point ahead of RVB. This fixture represented a great opportunity for RVB to state their credentials for a promotion. But it was Oxford that added valuable league points to their tally (3:0)
Richmond team worked hard at a game plan during the week. A very positive start with the score of 8-7 to Richmond at the first TTO gave a good prospective for the match. Unfortunately, it was a short-lived trend. Richmond passing unit crumbled under service pressure from Oxford with 16 unforced errors. The first set went to the hosts 25-15.
Even with some of the starting six from RVB absent, the team still had enough power to compete and engage Oxford. However, another row of 15 unforced errors and some very untidy rallies in the second set followed. Oxford ceased opportunity  to wrap it up at 25-14.
Less than 12 minutes in the third set, it was a point of no return for RVB girls with Oxford leading at 22-5. Trailing Richmond managed to scramble some points but 25-10 was a convincing win by Oxford.
The Head Coach Giorgio Scatigna-Gianfagna"GSG commented " I am very disappointed today knowing  the abilities of this team and seeing that the team worked hard at training. We just did not turn up to play and to compete. With Oxford coming to us in 2 weeks we need to regroup and make sure we work better. As a new team our target was to stay and find our place in Division 2, but we still have a chance for at least a playoff place. It is up to the girls now to put on a solid performance and show to opposition their stern determination to fight for every point."