Lineup Trick and 3-1 Treat for NVL Div 2 Women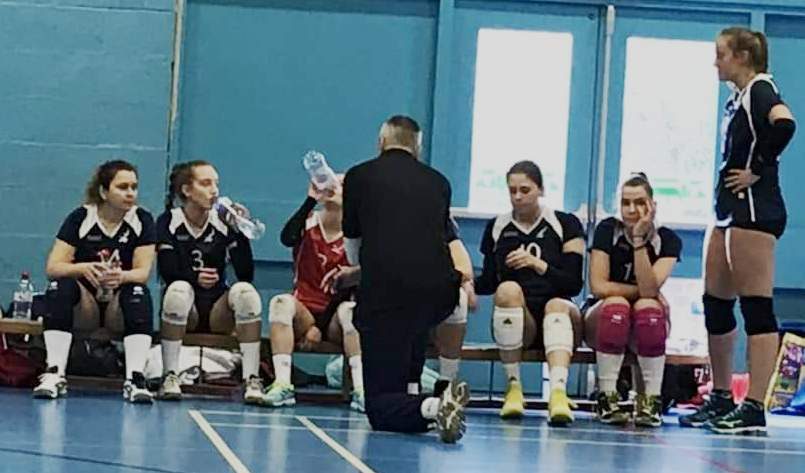 Richmond NVL Div 2 Women were back to their winning ways vs New Forest today. The team brought home a 3-1 victory (21-25, 25-23, 25-21 and 25-11) which made a 2 hours journey much more pleasant.
After half term break for many junior players and  Halloween trick-or-treating, the team came back with a bang!
For the first time in the season Head Coach Giorgio Scatigna-Gianfagna "GSG" had almost a full squad available for the match which made a great difference.
He reviewed the team lineup and his new starting six were probably the youngest team that ever played in Div 2 with the average age of 16.
Giorgio said ." After a long break since our last competitive game it was very important to start well and to stay focused. But in the first set we have not.  It has led to about 12 unforced errors which left us behind on 21 points. In the second and third sets we  regained control, dictated the pace and really managed to cut the number of mistakes. Fourth set we stormed away to 25-11, and that showed me the potential of this team when we work well and concentrate.
It is great to have Katie Keefe back after a long absence at the European Junior competition representing England. Issy Russell made a great contribution in her first league fixture coming back after injury. Again great spirit from Lisa, good hitting by Aurelia Braguglia and Gledia Jonuzi and  some well positioned serving by Diana Csok giving us a good number of points."
Match MVP Diana Csok.
Now back to training for 2 weeks and then 4 games in a row  with the last  away match of this year vs the currently top team Reading Aces.