RVB Women NVL Div 1 : Keep calm and carry on winning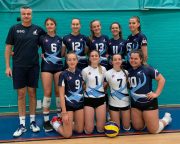 After an incredible weekend RVB Women are the only unbeaten team in NVL Division 1 with 3 wins in three matches.
What a weekend it was!!
On Saturday 19th, after a week of training with a skeleton team due to England NEVZA commitment and early school holiday, RVB faced once again the Team Souh Wales, second time after the opening game of the season. With a small bench and few players still injured Coach Giorgio Scatigna-Gianfagna started with a
"classic "rotation with Katie in her strong middle position.
Team has worked in training to sharpen serving, blocking position and use of alternative shots. It worked well!
First set ended 25-18 for RVB with strong serving from Gledia and Lisa and great power hitting by Katie and Aurelia.
Second set ended with the same score but the RVB ladies showed more variety  in attacking, especially on the back
court with great points from Katie, and great blocking by Laura.
Third set was really all about killing and controlling the game with a
mix of great powerful shots and clever use of the opposition's block
and tipping from Gledia and Lindsay and great contribution from Laura in the block. The set closed at 25-20.
Chosen match MVP and taking the mascot Ace away was Laura due to some very impressive blocks.
Sunday 20th Away game vs Darkstar
After a 3 hrs journey on Sunday morning RVB the team started their game vs hosts Darkstar very focused and determined. Great
blocking from Laura and great points by Katie brought the team into the rhythm and allowed to close the  set at 25-16 in less than 20 minutes.
Second set started slowly and with some unforced serving mistakes. Although RVB played some very exciting volleyball and we're really In control till 18-20, more unforced errors made RVB lose the set at 22-25.
RVB managed to build good momentum in the third set, and with some great serving by Aurelia and Lisa, consistent block by Laura and power spikes by Katie RVB got the win this time at 25-22.
In the forth set the Darkstar started imposing a serving plan and added strong hits in the middle.  RVB showed good team spirit and worked hard to gain control building up 6 points by Katie and Grace
but left it too late and lost 22-25.
Fifth set was just a regroup and Lisa's serving saw Richmond
going up to 8-2. Some great hits by Aurelia and Gledia followed and RVB closed the set at 15-8 and the game after almost 2,5 hrs which made the 4 hrs journey more pleasant.
Coach GSG commented " I think this was our first real test. Playing  2 games  back to back after a long journey is never easy. Also some players were away for England duties. These good results are due to the players' hard working attitude they put during the trainings.
The first set today is the best so far : we controlled the game and
stormed away. I am so impressed with the team spirit and
tenacity!
The season is very long and we will be challenged but for me it is all
about the right attitude at training and on court and at the moment I
can't ask for more. Once again we are working on doing basic tasks well and follow the game plan. Now we have a well deserved week of rest and then back to the gym and ready for a busy November including a game against SL Malory in the Cup !!"
MVP and taking the mascot Ace away was Katie.