RVB NVL 1 Women were back on track. Literally!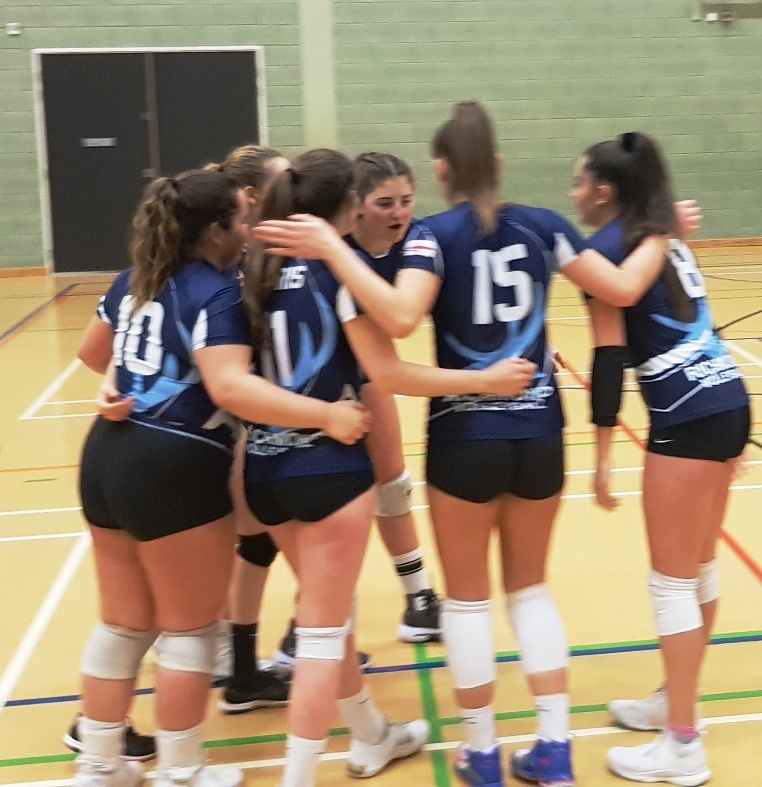 Richmond Volleyball first Women's NVL Div 1 Team traveled more than 5 hours by train and car to reach Sunderland, the furthest venue in this year's Div 1 fixtures. They came back with a 3-0 win to consolidate RVB league position.
The week training did not go as planned with an unfortunate injury to the middle player Laura and a flu bug doing rounds in the team.  Most importantly, the fighting spirit was back and having dusted off the close loss against Leeds and the Cup game defeat by Malory, Richmond girls and prepared as well as possible for Sunderland.
With still some key players missing and last minute injury  team Head Coach Giorgio Scatigna-Gianfagna "GSG" had to come with a solution very quickly.
RVB managed to register on time the new player Gaia Canevari from Volley Vicenza who made her debut immediately and integrated very well with the team.
A combination of some great serving by Brandi, good block control by Katie and some powerful and clever hitting by Grace and Gledia saw RVB close the first set at 25-21 .
The second set  started a bit slow but Richmond regaining the speed and concentration needed to close the second set at 25-22 with some great combinations in the front row between Lindsey and Katie, some strong serving and some good attack and blocking by Gaia.
In the third set RVB seemed just in rush to close the set and the game and be ready for a long journey back. It started with a convincng lead to the first technical timeout  at 8-1. From this point it was all the way to the end of 25-15.Solid performance from all the team, great serving from Gledia with 12 points and important points from the captain Katie ensured that Richmond dominated the court.
Coach GSG commented " This was another big test for such a young team, a long journey again, few key players missing and a need to re focus after the last 2 defeats.
These 3 points are very important for us to build a good momentum for the coming before Christmas home matches.
Next week I will have, finally, almost all the team available and am looking forward to the next few weeks. We have 3 more games st home and will use them to consolidate our position in the top part of the league"
MVP for RVB was Ana Zadoika.