Richmond VB Women September Training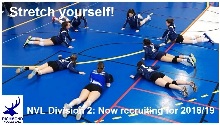 New season is finally here! Richmond VB adult women teams start training this week. We run National League Div 2 team (NVL2) and Regional London League Team (LVA). If you missed the tryouts, no problem. You can join our club at any time. You are welcome to come to any LVA training sessions to have a go and discuss all options for training and competition.
In September we will be training in various venues on various days as we still wait for confirmations from some new venues. You can check  our locations in Venues in the top menu.
Please check below this month training schedules for both teams :
TRAINING AND MATCHES in SEPTEMBER 
NATIONAL LEAGUE TEAM  DIVISION 2 – NVL2
3 Sept Monday 8-10pm Richmond College
7 Sept Friday 7:30-9:30pm Richmond College
10 Sept Monday 8-10pm Richmond College
14 Sept Friday 7:30-9:30pm Richmond College
16 Sept Sunday MATCH Kingston Arena
18 Sept Tuesday 8-10pm Kingston Arena
23 Sept Sunday MATCH AWAY in Bristol
25 Sept Tuesday 8-10pm Kingston Arena
30 Sept Sunday MATCH Kingston Arena
 LONDON LEAGUE TEAM  – LVA
3 Sept Monday 8-10pm Richmond College
10 Sept Monday 8-10pm Richmond College
17 Sept Monday 8-10pm Richmond College
20 Sept Thursday 8-10pm The German School
24 Sept Monday 8-10pm Richmond College
27 Sept Thursday 8-10pm The German School
30 Sept Sunday MATCH Kingston Arena