Richmond return from U20 Volley Culture, Paris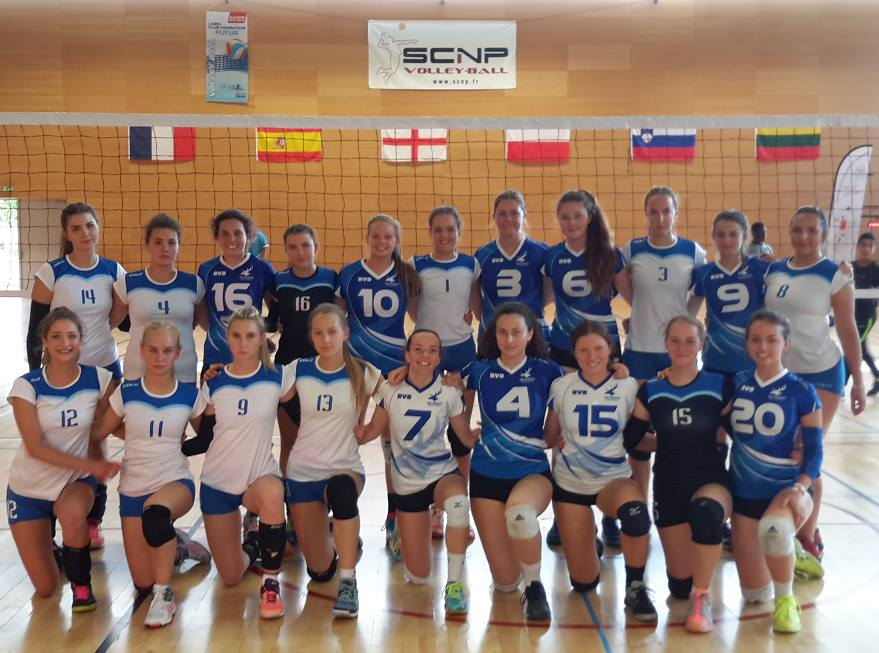 A trip to Paris was a fitting ending to what has been a great season for Richmond Volleyball's U18 women. It was the team's second time in the French capital, having participated in the inaugural event last year, and was an excellent ten days playing some great teams as well as enjoying the sights: The Bastille Day fireworks at the Eiffel Tower, Disneyland, and Montmartre, not to mention the World Cup final.
Richmond's first match was against ATK Grosuplje, the Slovenian national champions and eventual tournament winners. After a slow start in the first two sets, the third set was an extremely close affair with Richmond narrowly losing 30:28. In its second match the team played the hosts, Sporting Club Nord Parisien, this year's Ile de France champions. The French team, boasting national squad players, took the first two sets before a Richmond fight-back in the third was snuffed out clinically in the fourth. Another 3:1 loss followed in the third match against SMS Ostrowiec Sw. from Poland. "Even though we lost the match there were a lot of positives. Our movement and serve-receive was much better than in the previous matches", explained libero Ana Zadoika.
The tide was beginning to turn and next up was Volley Playa Madrid. In a close match, Richmond twice came from behind to set up a fifth set decider. Katie Keefe, who won the tournament's best middle blocker award, continues, "At 8:12 down it looked like our chance was slipping away, but we are now used to these situations and we concentrated hard on each point pulling it back to take the set and the match 15:13." In the final group game, against the Lithuanian national champions SM Tauras – VTC, Richmond led going into the fourth set. What turned out to be the longest set of the tournament at 37 minutes, alternated between match and set points, but it was Richmond who held their nerve coming out victors 34:32.
After the group stage Richmond was fourth but after losing two knock-out matches 3:1 against SM Tauras and Volley Playa Madrid they ended the competition in sixth place.
Richmond opposite Ilona McDonald said, "It's been a fantastic year. We started in September with a tournament in Catalonia, followed by Christmas at the U18 Spanish Cup in Guadalajara and Easter at the U19 Cornacchia World Cup in Pordenone, Italy."
Outside hitter Martha Bullen added that "the level of play in these tournaments has really improved our game and has helped us to win the NVL W3SE title as well as the U18 National Cup this season."
The ever-smiling captain, and setter, Mattea Goalen remarked on the cultural side, "This year we have played 28 international matches against 23 teams from twelve countries. We have made lots of friends, visited many places and had a lot of fun. It's great to see what a wonderful volleyball community there is."
"This event has been brilliantly organized and I'd like to thank the whole team at SCNP for being so welcoming", said Richmond coach John Goalen after the final match. "I must admit I have mixed emotions. I am so proud of all the girls and what they have achieved but also sad as we've just played our last match after quite a few years together."
Anna Keefe, Emma Valenti, Martha Bullen, Mattea Goalen and Sabina Marvulli are all joining the volleyball programme at Nottingham University next year. But even though a generation of players may be leaving, the future is looking very bright at Richmond. An U15 National Cup win and second place in the U16s this year shows that there is plenty of talent to fill their shoes.