Be a part of The Richmond Volleyball Family
Our mission is to promote volleyball by bringing athletes, coaches, and the local community together to foster a distinctive culture of excellence. We run as a non-profit club and keep our training fees as affordable as possible for our players, but this allows minimum investment for the club to run and does not allow us to invest in equipment or our talented players.
Looking to the future, we want to build on our strong foundation and further grow the club.
Our goal is to increase participation levels in volleyball for all ages and abilities across London and the home counties. We want to share our passion for volleyball with as many people as possible through regular training opportunities tailored to all levels, including beginners, local communities and children.
To support the club's growth and to help us grow as a centre of volleyball excellence, we are seeking strategic partnerships
We are looking to work with companies, venues, manufacturers and service providers who will support us in our growth and enable us to offer the highest quality training at an affordable level to all our athletes and participants across all our divisions.
By becoming a partner, your contribution will be used to fund equipment such as balls, nets and antennae, as well as training venues for our teams. Your help will enable our athletes to gain coaching and referee qualifications and allow us to host guest coaches and training camps. Your support will enable us to host more events and help our performance teams and athletes compete at national and international levels whilst also supporting our growing junior and community programmes.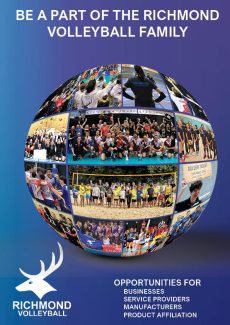 Be a part of our journey
Whether you're able to offer prizes for our tournaments, training facilities, or transport or are looking for national brand exposure through league sponsorship of our teams, we would love to hear from you.
Click to view or download brochure. It outlines a few ways we think partnerships might work and highlights what we can offer in return for your support. We can tailor a package to your specific requirements, whether that might be brand awareness, a product launch, community relations or corporate team-building.
If you're interested in helping us, please get in touch; we would be delighted to discuss things further.

Did you know that you can help support Richmond Volleyball by shopping online?
It's easy – just sign up for free with easyfundraising, and then shop at your favourite retailers. Whether you're buying groceries, paying the gas bill or gift giving, there are over 7,000 retailers registered and every time you make a purchase, they will donate a percentage of your purchase to Richmond Volleyball, and it won't cost you a penny extra!
Sign up here, choose Richmond Volleyball as your good cause, and start shopping! So far, we have raised £400, but with your help, we reach even higher and support our teams.
Thank you!