Richmond men win on the road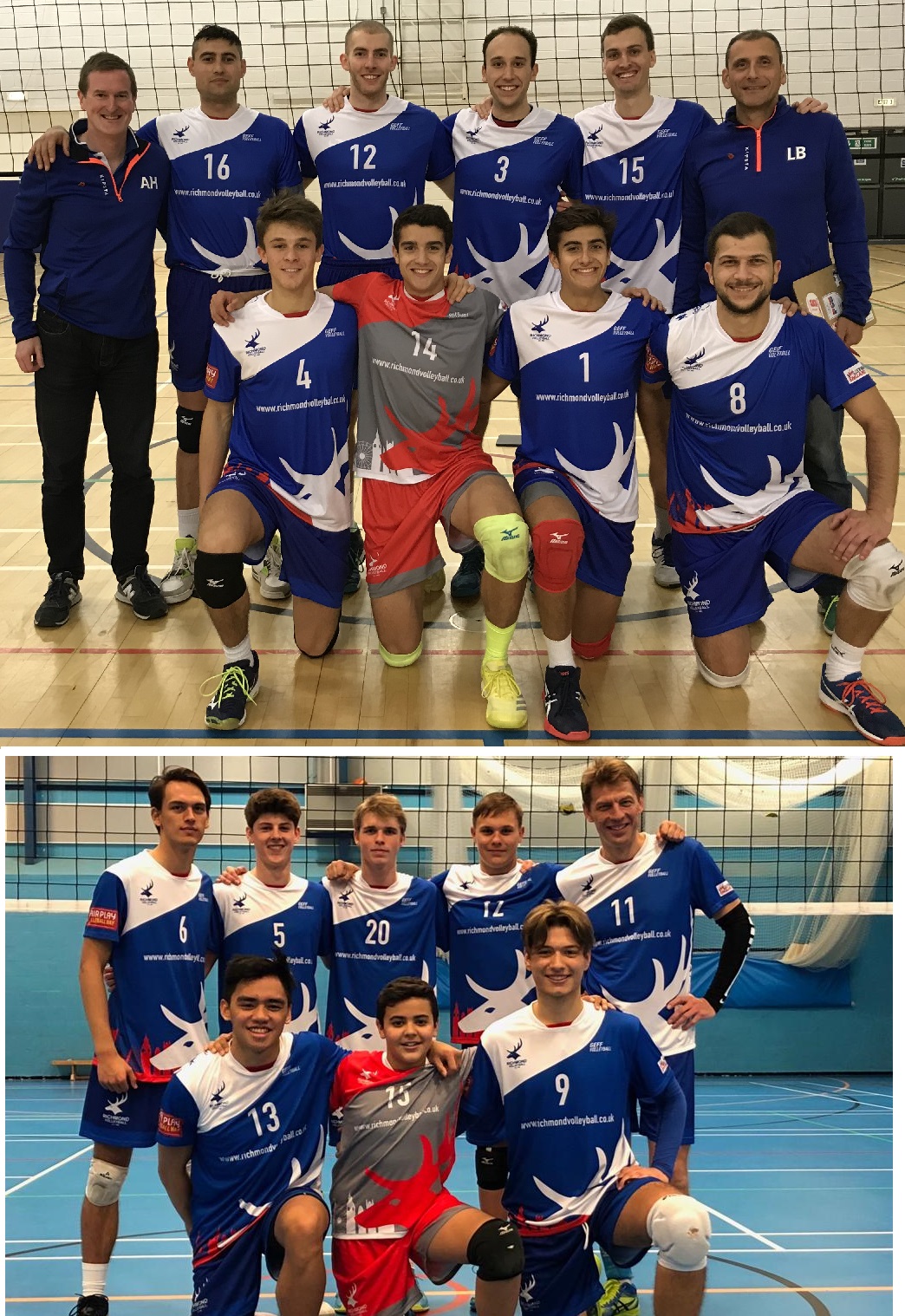 Richmond Men's division had a successful weekend on the road with both the Super League and NVL2 sides returning to London with 3-1 victories. The division's resources were stretched with a number of players unavailable due to injuries or work commitments.  Both squads travelled with just eight players but both came back with the points.
Richmond Docklands gained a much needed first Super League win of the season in Sheffield.  It was Docklands' first victory over Keith Trenam's side since 2011 after Sheffield had won the last ten encounters.  After a shaky start in the first set, Richmond Docklands discovered their timing and rhythm.  But it was too late in set one to turn around a six-point deficit and Sheffield took the opener 25-20.
An ace by Javier Bello set the scene at the start of set two and he steered his side into an 8-2 advantage at the first technical time-out.  Richmond had the bit between their teeth now and some varied and clever attacking by captain Panos Karagiannis helped maintain the visitor's lead.  Noah Goalen was being equally as affective as his skipper whilst Julian Marcon was also providing a consistent point making outlet.  Luis Bello's side strolled to the second set 25-17 to level the match.
Richmond Docklands' clear tactic of targeting the second outside hitter on the serve was paying dividends.  Trenam was forced to change his line-up and by the end of the match had tried five different players in that position.  Docklands serving pressure and some dogged defence was frustrating the hosts and Richmond dominated set three to take it 25-13.
With their first point of the season secured, Richmond Docklands set about converting their chance of three points.  They managed to maintain the pressure on Sheffield and with some ruthless attacking by middle men Vuk Kosanovic and Flavien Hias, Richmond opened up a 17-11 lead.  The introduction of debutant Sreten Kostic brought extra height and power to the court and he duly despatched a strong kill off the block to keep the scoreboard ticking over.  In the end Richmond Docklands claimed all three points with a 25-20 fourth set win.
Luis Bello said afterwards, "We knew before the start that service pressure was key and we excelled at that today.  I'm proud of the team and what we achieved today.  We can now build on this and move on to some more big games coming up".
Black Knight: Panos Karagiannis
Docklands MVP: Panos Karagiannis                 Sheffield MVP: Jack Williams
Meanwhile in Southampton, Richmond's NVL2 side were battling it out with New Forest.  Ben Lucas was returning to his old club for the first time and he starred in an all round team performance to take home the victory.  With Josh Green out injured following a cycling accident, veteran setter Anton Kornilov came into the side to bring more experience as well as increasing the average age of the team!
Kornilov said afterwards, "We improved our passing and reduced unforced errors throughout the game which led to a convincing victory in what was a closely balanced match.  I thought coach Soczewka made some timely substitutions to strengthen the squad".
Richmond came back from 13-21 down in the first set to win it and only narrowly lost the second set with too many unforced errors.  Justin Magtibay came off the bench to help stabilise the service receive in sets one and two and made a significant contribution to the team's strong performance by setting in the final two sets.  Kornilov was moved to opposite and his power and guile strengthened Richmond's attack.  A run of six serves by Magtibay at the start of the fourth set gave the visitors an unbelievable start and they never looked back, taking the final set 25-13.
Along with Essex Estonians and City of Bristol, Richmond remain the only unbeaten teams in the division and will look to maintain their record when they travel to face Team Bristol next Sunday.
Richmond MVP: Anton Kornilov