Richmond Docklands' Magnificent 7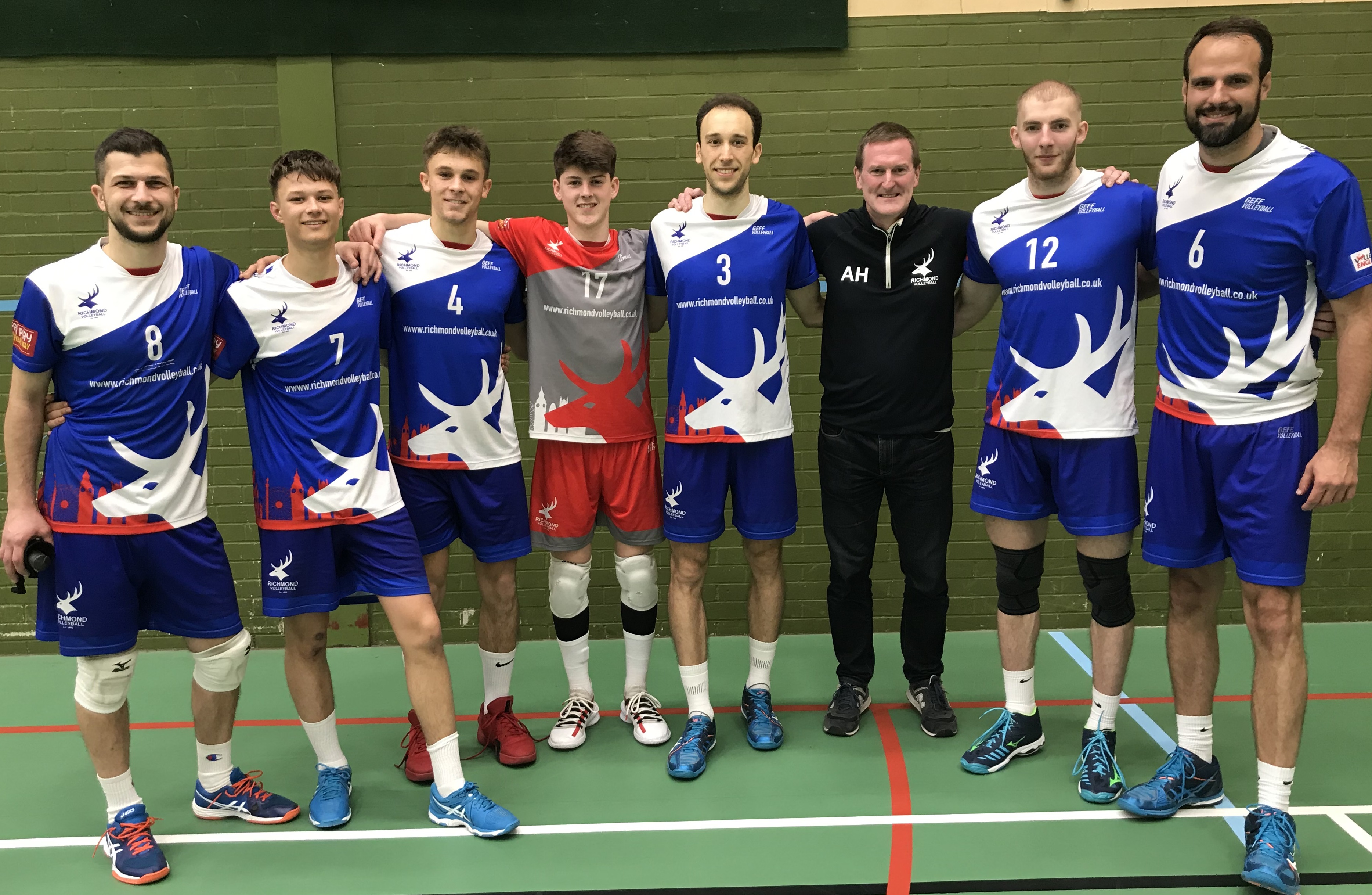 After three five-set defeats in row Richmond Docklands finally won a final set in a battling performance against Newcastle Staffs.  The squad of just seven players travelled to Keele University knowing that a win in under five sets would secure sixth place.  So when Staffs stole the first two sets after Docklands had been in control, the visitors just had pride to play for.
Led by Black Knight winner Panos Karagiannis, Richmond set about turning around the match.  But the third set did not start well with Staffs leading 16-10 at the second technical time-out.  However, Richmond Docklands did not give up and after a probing run of serves by Julian Marcon, they battled themselves into a 17-16 lead.  The momentum was all with Docklands and they kept on winning points to win 25-21.  This was with Karagiannis effectively playing on one leg after he pulled his calf in set two.
Set four was a closely fought contest but Docklands just had enough at the business end of the set with middle blockers Dan Westphal and Vuk Kosanovic dominating their opposite numbers at the net.
After three five-set matches in a row you would have expected Richmond to know how to start a fifth set but they slumped to a 6-1 deficit.  In most scenarios that would have been a winning margin in the short fifth set but Richmond had other ideas.  They slowly clawed their way back with an ace by Josh Green taking his side 10-9 ahead.  There was no stopping Richmond and they just wanted it more than their hosts.  In the end it was left to Westphal to put away an over pass to seal a 15-12 win.
Black Knight: Panos Karagiannis
Docklands MVP: Noah Goalen               Staffs MVP: Szymon Kijewski
Meanwhile, on Sunday our NVL2 side suffered a rare set back in their pursuit of the Division 2 South title.  Missing a couple of key players, the boys lost 3-0 to championship rivals Team Essex Estonians.  However, the destination of the title is still in Richmond's hands.  Next weekend, wins against league leaders City of Bristol and New Forest will see Richmond lift the title.  Please come and support the boys at Kingston College next Saturday (16:30) and Sunday (12:30).