Mixed fortunes for Richmond's Men's Division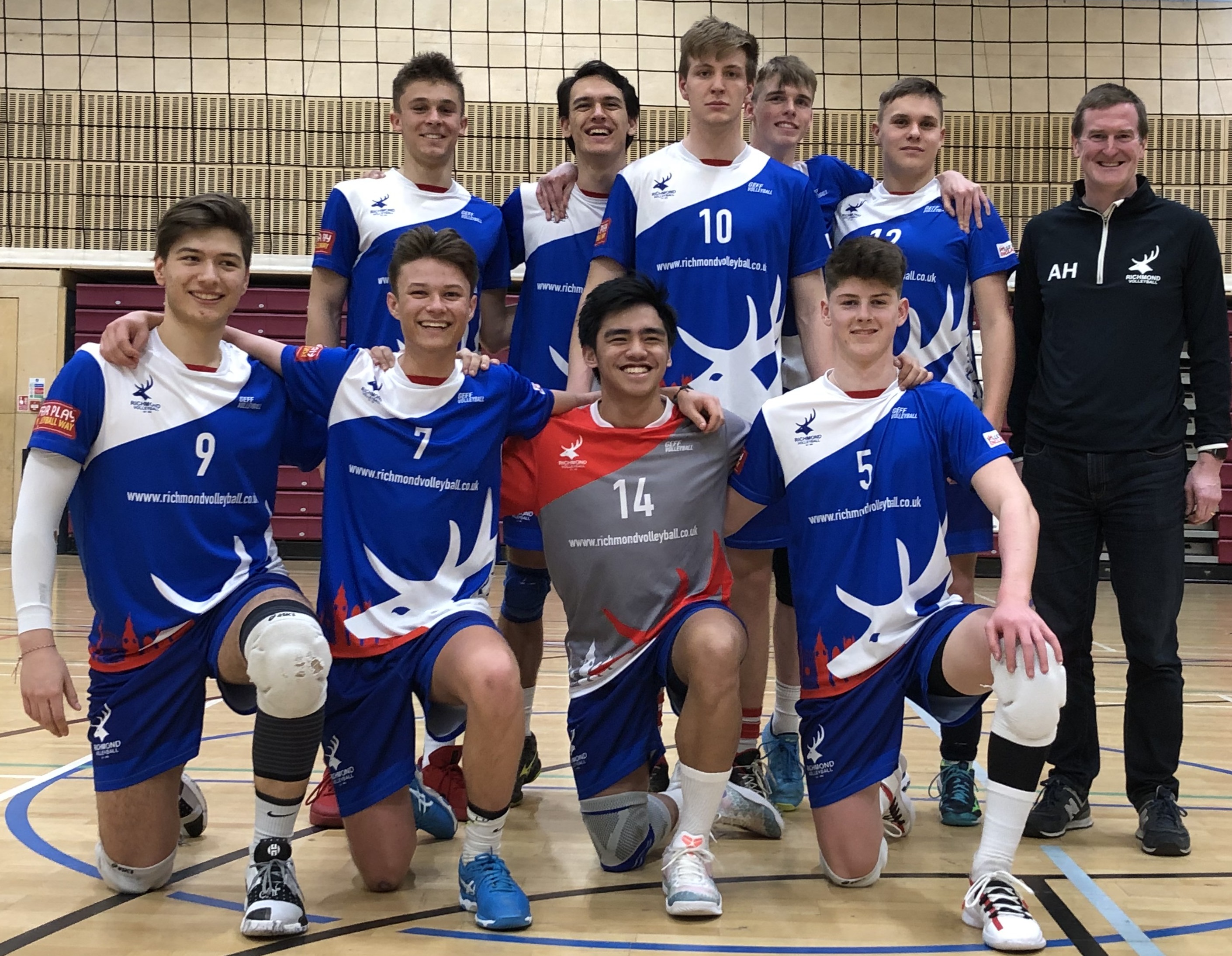 Richmond's Men's NVL2 side hosted Oxford Students on Saturday, the only team to beat them so far this season.  Revenge looked to be on the cards when Oxford turned up with only six players.  But they put up a fight in set one, pushing Richmond all the way until the home side prevailed 28-26.  Sets two and three were much more comfortable for Richmond (winning 16 and 14) with Ben Lucas and Jonathan Anderson starring in a dominant display, cheered on by a boisterous crowd and drumming.
The win leaves Richmond in second place but with a game in hand over leaders City of Bristol. Richmond's next two games will probably determine the destination of the title with a visit to Essex Estonians first (7th April) and then a home match against City of Bristol on 13th April..
Whilst the majority of Richmond's under 18 team were winning in the NVL, the men's division's under 15 team were slaying all before them in the last 8s of the national championships in Kettering.  They reached the final in April without dropping a set, defeating Newcastle Staffs in the semi final.  They will face Boswells in the final on Saturday 27th April.
Meanwhile on Sunday, Richmond Docklands lost in five sets for the fourth time this season.  This time they lost out to a spirited performance by Newcastle Staffs.  It was only Staffs' second league win of the season with the other being against Docklands on the opening day of the season.  Between September and March they have lost all ten league games and despite their second win will finish in ninth place and face a play-off against the second team in Division 1.
Richmond's squad was missing three of their middle blockers and influential captain Panos Karagiannis.  Despite this the home side played some quality volleyball at times and should have taken more from the game.  At one set all and 24-21 up in the third set, the match was in their hands but Staffs blocked and defended like their lives depended on it and deserved to take a 2-1 lead with a 29-27 third set win.  Richmond recovered to comfortably take the fourth 24-16 but Staffs battled their way into a four-point lead in the fifth and would not give that up.  The Black Knight was won by Sreten Kostic whilst Staffs voted Ben Lucas MVP.
Docklands have just one match left and a chance for swift revenge with a trip to Newcastle Staffs in just under two weeks time.
Immediately afterwards our all conquering Surrey League team beat Spelthorne Lions 3-0 to seal the title with one game to go – our third championship in a row.  Coach Renato Bernardi said afterwards, "I'm very proud of the team, all the squad made a difference".