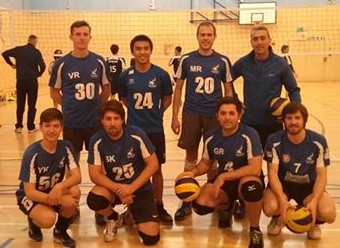 The team competes in the County Surrey League from October to May.  After the end of the season the winners of the league are automatically entered into the South East Volleyball Association Cup to play against other County Leagues winners (dates are announced in April).
 RVB Surrey League Team History
(C) Champions, (R/up) Runner-up, (P) Promoted (R) Relegated.
| Season | Surrey League | League Standing | South East Regional Cup |
| --- | --- | --- | --- |
| 2017-18 | Division 1 | TBC | TBC |
| 2016-17 | Division 1 | 1st (C) | 3rd |
| 2015-16 | Division 1 | 4th | n/a |
| 2014-15 | Division 1 | 4th | n/a |
| 2013-14 | Division 1 | 1st (C) | 2nd |
| 2012-13 | Division 1 | 3rd | 4th |
| 2011-12 | Division 1 | 4th | n/a |
| 2010-11 | Division 2 | 1st (P) | 4th |