RVB players shine at Northern European Junior Volleyball Championships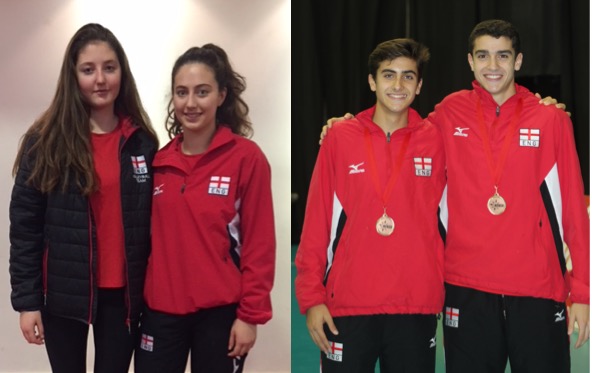 Seven RVB Junior players & a coach represented England Juniors at various 2017 North European Volleyball Championship age group tournaments held in Denmark and England.
Under the management of Head Coach Luis Bello and England's u17 future generation of stars, Noah Goalen (16), Yoan Kuzmanov (16) and Jonathan Anderson (15) the team travelled to Denmark and claimed 4th position while England u17 Girls and Katie Keefe (14) finished 6th.
The following week England hosted the u19 age groups with 4 RVB junior players selected. The England u19 Women with the Keefe sisters, Anna (17) and Katie, capped an excellent tournament to finish 4th, short of the medals in a thrilling 5 set match against Norway.
For the boys Bello twins Javier and Joaquin (17) this was their 3rd indoor NEVZA tournament and having also won Gold for England in the u17 NEVA Beach in 2016 they took their first indoor u19 England medal with a bronze win against the tough Norwegian side.
Richmond Volleyball Junior Performance Centre is delighted to deliver so many quality players to the National Talent programme with 7 selected for NEVZA (same as Boswells School) and 11 taking part in the UK School games.
Congratulations to everyone involved, we are very proud of the performance of the England teams and our players (and coach). Keep up the good work!
England u17 Boys (4th)
* Noah Goalen (16),
* Yoan Kuzmanov (16)
* Jonathan Anderson (15)
England u17 Girls (6th)
* Katie Keefe (14)
England u19 Men (3rd)
* Javier Bello (17)
* Joaquin Bello (17),
England u19 Women (4th)
* Anna Keefe (17)
* Katie Keefe (14)