Northumbria block out Richmond Docklands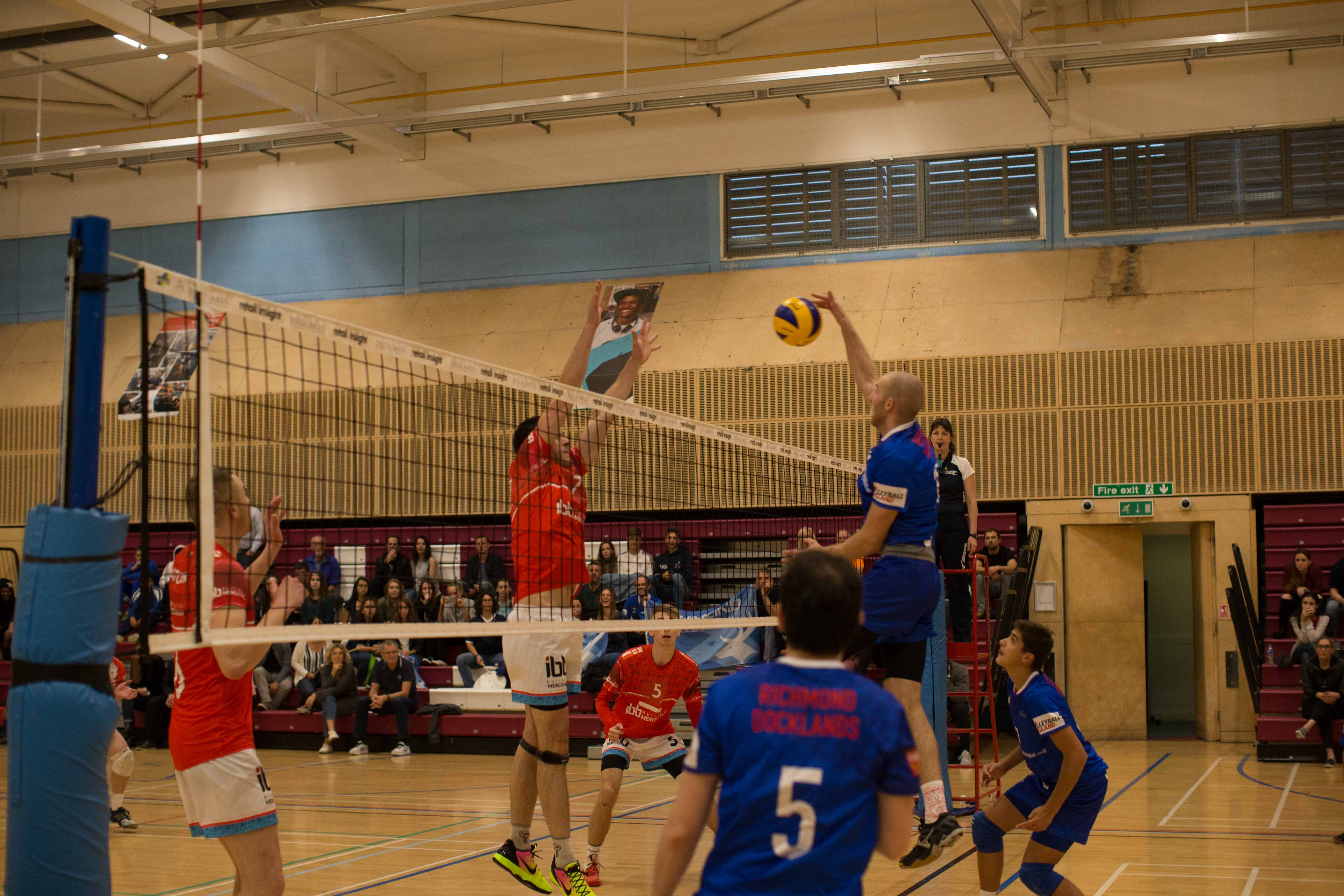 Richmond Docklands completed their regular season Super8s home fixtures in front of a boisterous home crowd but despite a strong opening they could not secure a surprise victory over league leaders Team Northumbria.

It all started so well for Richmond Docklands with a confident first set performance keeping Northumbria to just 16 points, their lowest return this season. A service run by Flavien Hias helped turn a 3-5 deficit into an 8-5 lead and the momentum was all with the home side. After Matteo Veggian returned to Italy, Panos Karagiannis stepped into the Libero role and provided a solid platform for Javier Bello to run his offense. Blocks by Dan Westphal and Andrew Pink drove Docklands on as they steamrollered their way to the first set win.
With the long journey from Newcastle out of their system, Northumbria set about turning the match around. Their block started to operate more effectively with American Daniel Kingstad proving to be a tough obstacle to overcome at the centre of the court. He ended the match with eleven kill blocks and was often the key difference between the two teams.
For Richmond Docklands the last three sets followed a horribly similar pattern, with Northumbria opening up an early lead and dominating play. Docklands captain Pink showed glimpses of former glories and some quality serving by Vuk Kosanovic proved a useful weapon but Northumbria simply had too much.
Northumbria went on to beat Malory Eagles 3-0 on Sunday and therefore guaranteed top place of the regular season table and a home semi final in the play-offs. They have finished top of the regular season table five out of the last six seasons but have only converted this dominance into one Super8s title, a stat coach David Goodchild must be desperate to improve upon.
Pink commented after the match, "Considering the resources and training time we have compared to Northumbria we over achieved today and can move on and learn from the match. We still have a lot to give this season and I'm proud of how the boys battled against the odds".
Richmond Docklands now have two weekends off before they travel the short distance to Brentford to take on IBB Polonia on Saturday 3rd March.
Black Knight: Andrew Pink
Docklands MVP: Vuk Kosanovic
Northumbria MVP: Federico Pagalria