Richmond Volleyball's Men and Boys division celebrate season of unprecedented success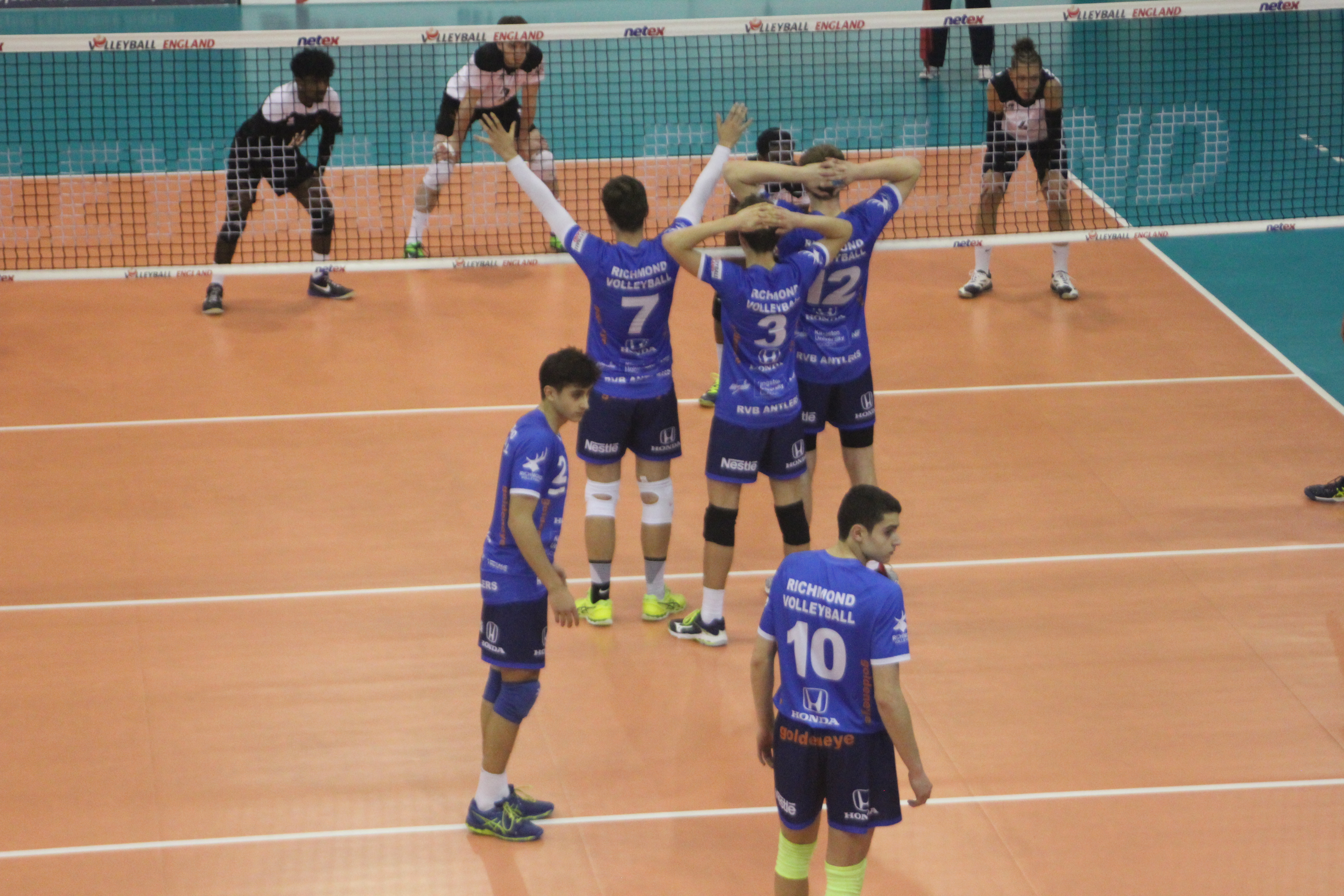 From the U15s to the Super8s squad, Richmond Volleyball stakes claim as the leading volleyball club in London
The Richmond Volleyball Men and Boys indoor division officially closed a historic season of success on 20 May when our champion Surrey League team finished with a silver medal in a gruelling and extremely competitive South England Volleyball Association tournament.
The second-place finish was just the latest in a long line of successes for London's largest volleyball club during the 2017/18 season. In fact, it was the most successful indoor season in the proud history of Richmond Volleyball.
Led by world renowned and highly experienced Spanish coach Luis Bello, the boys of Richmond were crowned champions of England at both U18 level and U16 level. and finished with a hard-fought silver medal in the U15 category – while fielding players as young as 13 years old.
Richmond's senior teams enjoyed unprecedent success on the court during the 2017/18 season too.
A landmark merger ahead of the season brought one of England's most historic teams, London Docklands, under the Richmond Volleyball banner and brought top level volleyball to the club for the first time.
Fielding a new team in the top division in the country with many players under the age of 21 who had no prior experience of Super8 volleyball was a risk, but the newly named 'Richmond Docklands' eased into a remarkable fourth place finish during the regular season. A staggering achievement and one that guarantees Richmond Volleyball top flight volleyball for another season.
Richmond's London Premier League team continued to improve and impress throughout the season, no doubt aided by combined training sessions with the Super8s team, to finish as the third best team in the capital. The club's Surrey League squad were crowned champions of the county for the second season in a row.
Head Coach of the Richmond Volleyball Club's Men and Boys division, Luis Bello, was proud of the success every team enjoyed during the 2017/18 season and excited about the future.
Bello said "For many years now we have tried to cultivate a fun, inclusive and successful environment for our teams, especially at the age group levels. I'm proud of what we have achieved together this season and firmly believe that we can grow the club to be even bigger and more successful in the future. We have the best junior talent in the country and perhaps it's time we tested ourselves at age group levels against other European countries too.
"At senior level we have a beautiful platform from which to build something really special for volleyball in London. With some of our current players reaching a certain vintage, it will be those boys at U16 and U18 levels who will need to drive the elite team forward in the years to come. It's an incredibly exciting time and I can't wait for the next season to start."
Richmond Volleyball is humbled to have vastly experienced player, coach, administrator and volleyball fountain of knowledge Andy Hopper in place as Head Coach for the Men teams.
A former on-court stalwart for London Docklands in the not too distant past who then spent time with both the England and Great Britain national teams, in addition to advisory roles with Volleyball England, Hopper was critical in orchestrating the move to integrate Docklands into the Richmond Volleyball Club set-up.
Commenting on the historic move, Hopper said: "We realised that we were doing a disservice to volleyball in this country by continuing to operate London Docklands as a nomadic one-team 'club' in England's top division. The future of the sport was more important than the vanity of history, so we took an admittedly difficult division to bring our 'club' under the banner of a more fit-for-purpose outfit.
"Richmond Volleyball Club ticked all of the boxes for us. A proper club with hundreds of players throughout the age groups and across all ability levels. A real community spirit to the club, with a growing fan base. A fourth place finish this year was Docklands' highest league finish for some time too. I'm certain that when the last of the old Docklands cohort throws his knee pads into the washing machine for the final time, the decision to combine clubs will be proved correct."
Former London 2012 Olympian, and winner of more than 140 Caps for Great Britain, Andrew Pink probably should have retired long ago but was compelled to compete again in Richmond Volleyball Club colours following the Docklands merger. He explains his thinking:
"I was lucky enough to live in and play professional volleyball in eight different countries in my career. What has always been missing in England in my opinion is a 'real' volleyball club. One that has all the age groups, all ability levels, elites, juniors, beach and more. When we [Docklands] looked at Richmond, it was clear that what the club is building is truly remarkable and exciting.
"It's a young and vibrant club, full of talented young men and women who love the sport and enjoy training and competing together. What's unique, though not surprising because we're in London, is the number of nationalities throughout the club. On the Super8s team alone we had players from France, Belgium, Spain, Greece, USA, Brazil, Croatia, Portugal, Italy and more. It's a brilliant club and I'd encourage any player, or parent of potential player, no matter what your age or ability, to get in touch and join the fun."
To join one of the many teams throughout the club across any of the age groups, contact men@richmondvolleyball.co.uk or boys@richmondvolleyball.co.uk.