Volleyball England Strategic Plan 2013-17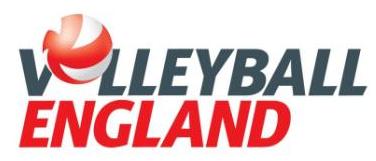 Volleyball England has launched its new Strategic Plan for the next four years. Predominantly funded by Sport England (£4.6m), the new plan sees a focus on specific investment areas across England targeting 14-25 year olds.
Volleyball England is delighted to support the Government focus of developing a sporting habit for life amongst 14-25 year olds and believe the sport has an ideal profile to meet the needs of the 21st century young person and will be looking to provide offers accordingly.
The funding Volleyball England has secured (£4.6m over 4 years) from Sport England is to be used exclusively to deliver the outcomes commissioned by Sport England.
• 11,060 adults participating weekly
• 128 recreational players certified as disabled playing within our clubs
• 100 junior players within our programmes
• 10% of our identified talent progressing into the junior programmes
• 15 sitting volleyball athletes with supported performance plans
• 16 supported coaches deployed within the performance pathway
Volleyball England programmes will be:
1. YOUNG PEOPLE (Lets Play Volleyball)
* School competitions
* Young leaders
* Satellite clubs
2. STUDENT VOLLEYBALL (exciting new ways to engage students in volleyball)
* Competition
* Beach volleyball
* Links with clubs
3. GO SPIKE (increase the opportunities for everyone to experience recreational volleyball)
* Training and competitions
* Beach volleyball
4. SITTING (increase and integrate opportunities)
* Participation
* Development of workforce
5. TALENT (the aspiration to develop high quality players who are capable of making volleyball their Profession
* Bespoke talent ID and recruitment
* Junior academiees and FE partners
* Senior club performance wtih HE partners
* Coaches following CPD
South London and Surrey has been selected as one of the nine hot spot areas to help deliver Volleyball England Whole Sport Plan (WSP) for Volleyball over the period of 2013-17. Other areas for consideration:
1. Teeside, Tyneside & Wearside
2. Dorset & Hampshire
3. SOUTH LONDON & SURREY
4. East London & Essex
5. Sheffield & Leeds
6. East Midlands
7. Birmingham & Warwickshire
8. Black Country & Staffordshire
9. Greater Manchester
These areas were selected on the basis of:
• work already being underway in these areas
• support of the local County Sports Partnership (CSP)
• active clubs in the area
• coaches, referees and facilities available
•  population demographics.